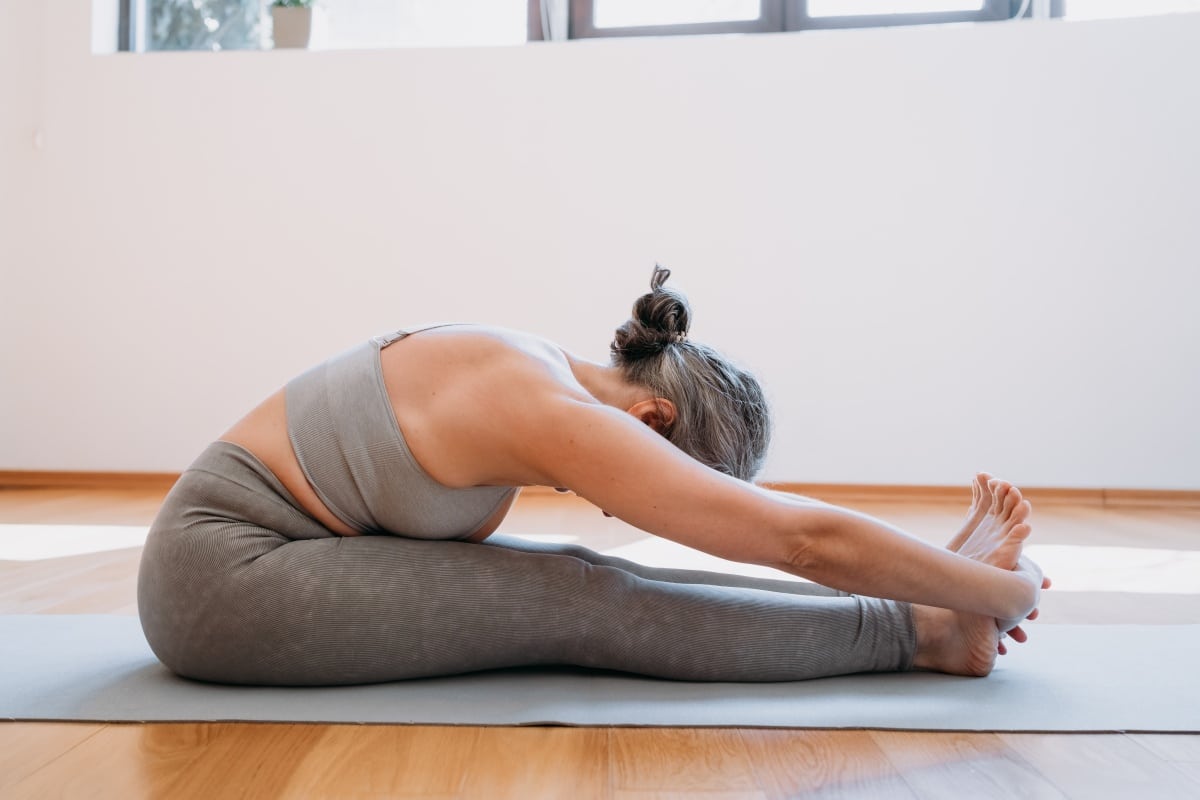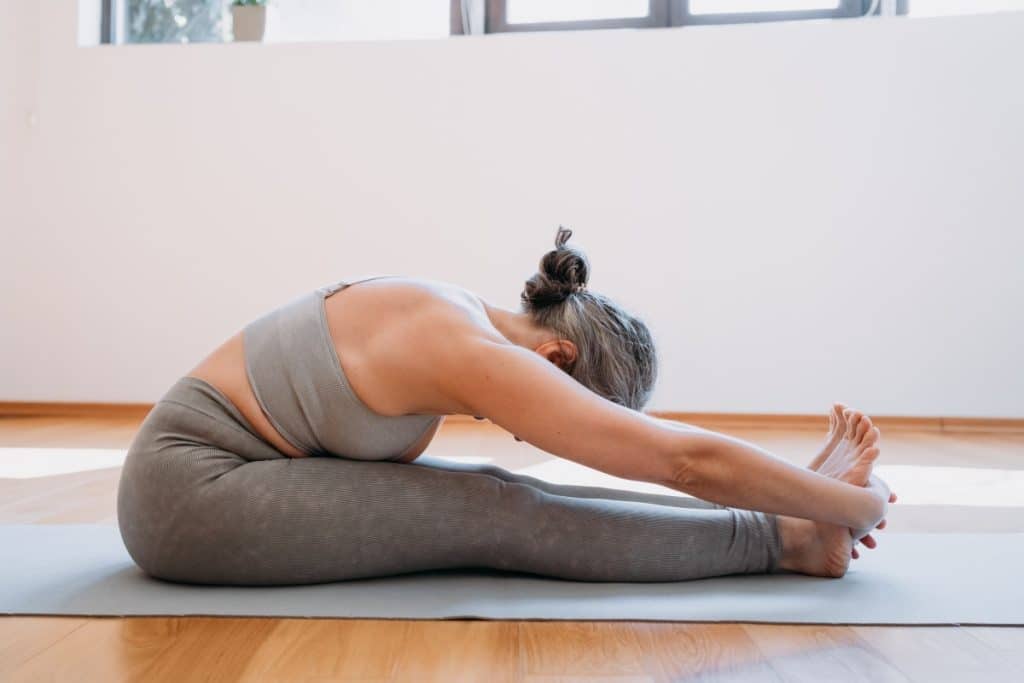 Menopause hip pain is among the many symptoms experienced during this time of life, next to hot flashes, hormonal changes, breast tenderness, and painful intercourse. It might not occur to you, but many female reproductive organs are located between the hip bones, in the pelvic cavity. This is why you might feel pain, soreness, or lack of mobility in this area during this time of transition for your body.
While I am not yet in this season myself, Lindywell serves all generations. It's frustrating to know that perimenopause and menopause are some of the least discussed (and least researched) experiences—and yet it's a significant season of a woman's life that brings about very real symptoms. Among the variety of bodily changes experienced at this time, hip pain is something we hear about a lot.
The good news is: Pilates can help!
Here's what you need to know about why menopause hip pain can happen, how Pilates can help, plus, a few gentle exercises that can start to bring some relief.

The Connection Between Menopause and Hip Pain
Women who have completed menopause are susceptible to a condition known as gluteal tendinopathy. This causes the tendon tissues in your hips and glutes to deteriorate, resulting in musculoskeletal pain and inflammation.
Since it's common for weight and hormone levels to fluctuate during or after menopause, these changes can exert pressure on the tendons, chronically inflaming them over time. As such, one in four women over the age of 50 will experience gluteal tendinopathy, which can make it difficult or painful to perform routine lower-body functions.
5 Ways Pilates Can Reduce Menopausal Hip Pain
If you're menopausal or post-menopausal and have been dealing with these symptoms for more than 12 weeks persistently, it's time to consult a doctor. In addition to getting medical support if needed, it may be time for you to consider Pilates.
This form of movement can be a supportive and gentle way to strengthen your hip area, while also restoring functional mobility and alleviating that nagging discomfort. Here's how Pilates can help.
1. More Hip Flexibility
Pilates focuses on rhythmic, flowing movements that help enhance the range of motion. This gentle fluidity will stretch the hip joints and muscles without straining them, which promotes flexibility. The more mobile and flexible your hips are, the easier (and less painful!) it will be to bend, rotate, lean, squat, walk, or perform other basic lower body functions.
As someone who has experienced many seasons of chronic pain, I can attest to how much of a difference this makes on your mental health as well. When you can do everyday life activities with less or no pain, each day feels more enjoyable and easier to manage.
2. Stronger, More Stable Core
When done with intention and precision, most Pilates exercises activate the core muscles in your torso (back, pelvis, abdominals, and hips). As these muscles repetitively contract and lengthen, the core becomes stronger, which creates more stability and balance throughout the whole body. As such, Pilates is a great way to build muscle thickness in the torso region, which can ultimately reduce chronic pain.
3. Improved Spinal Alignment
Not only does Pilates stabilize the core, but it also helps correct spinal misalignments to reduce postural issues such as pelvic tilt, thoracic curvature, lumbar lordosis, and hamstring overextension. This is a major part of why my scoliosis became more manageable when I found Pilates.
When it comes to menopause hip pain, this alignment is also important because it relieves pressure on your hips and other connected areas of the lower body. That decrease in pressure means less chronic pain or restrictions and more freedom of movement.
4. Reduced Joint Stiffness
It's common for joints to lose their natural lubrication and begin to feel stiff or brittle as you (joyfully!) age. This can make your joints more vulnerable to pain, injuries, compression, and immobility. The ball-and-socket joint, which connects your hip and thigh bones, is no exception, but Pilates can help with this too. The low-impact motions of Pilates will take the stress off your joints to restore their mobility, alleviate compression, and lower the risk of falling.
5. Decreased Risk of Injuries
New research from the North American Menopause Society found that one in three women over age 50 will experience fragility fractures in their joints, including hips, which is the most severe type of fracture. Of those who survive a hip fracture, 40 percent will not be able to independently walk again.
Women who have reached menopause are often at an increased risk for this injury due to postmenopausal bone loss, but as the PLOS One Journal reveals, a consistent Pilates routine can preserve bone mineral density and strengthen bone tissues. It will also improve balance and strength so you're less likely to fall in the first place.
Pilates Exercises to Alleviate Hip Pain from Menopause
Use the following Pilates exercises, from our Pilates for Hip Mobility workout, to open, stretch, and mobilize your hips, and the muscles surrounding them. All you need to perform this workout is a Pilates mat—no other equipment is necessary!
Remember, this is your practice, so do what feels restorative for your hips and listen to the inner cues from within your own body.
If you want to get this full workout, plus 300+ more that can support your menopause hip pain, while helping you build strength, start your 14-day free trial of Lindywell!
Side Kneeling Lunge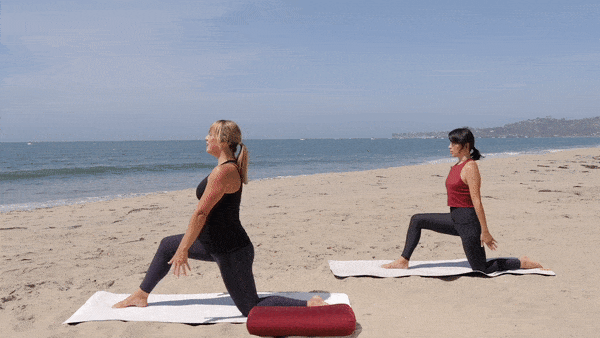 Feel free to pad under your knee with a folded towel if you need extra support for this movement. Remember to slowly shift your weight forward to feel a stretch in the front of your left hip flexor, keeping this movement intentional when we can easily move through it quickly and without thinking.
Seated Side Stretch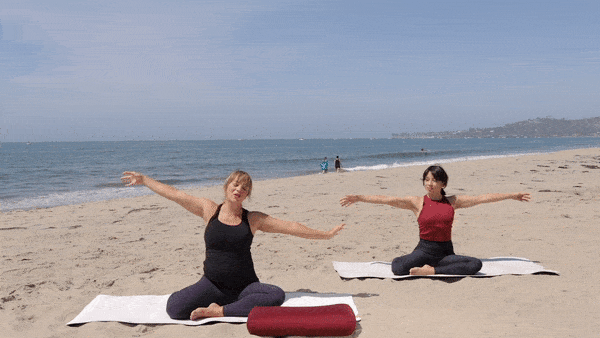 An important part of this exercise is to keep your hip bones on the ground as you stretch and reach to the side. It's okay if you can't do this yet, but it's what you're working toward to make the most out of the movement.
Leg Circles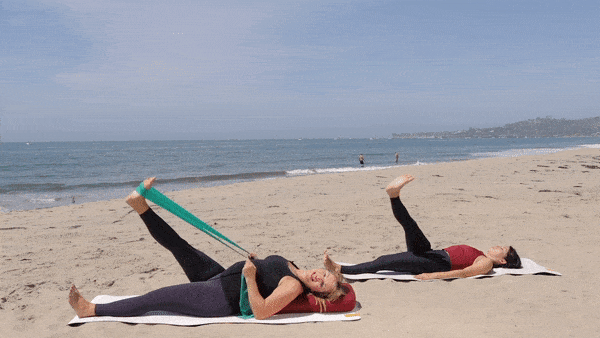 Lying on your back, extend one leg up to the sky as your opposite leg extends down the mat. Draw a circle with your leg, breathing as you do. Remember to keep your pelvis as still as possible while doing this movement. This activates the core muscles. If you feel your lower back lifting off the mat, reduce your range of motion and make your circle smaller..
Reverse Table Top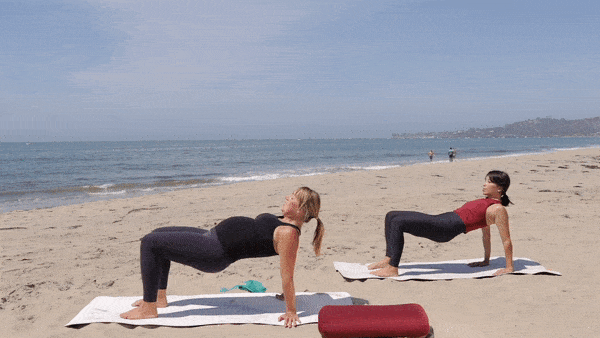 While hands facing your body is the traditional placement for this exercise, you can modify it by facing them out to the side or behind your body. If you have tight shoulders, this can make the movement more comfortable. Don't forget to focus on keeping your chest open from start to finish as well.
Butterfly Forward Fold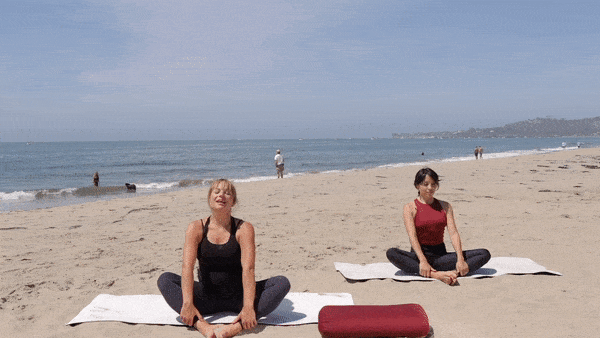 While not necessary, to get more stretch out of this exercise, feel free to push down on your knees or pull yourself down by grabbing hold of your feet. Do what feels best for your body and hips—which might be different each time you do this!
Relieve Your Menopause Hip Pain
Hip discomfort, restriction, or pain is a common side-effect of menopause, but these gentle exercises can help if you struggle with menopause hip pain.
If you love these exercises and are ready to start living with less pain, start your free 14-day trial of Lindywell. You'll get access to 300+ Pilates classes that increase flexibility, balance, and strength in your hips—and all other areas of the body.