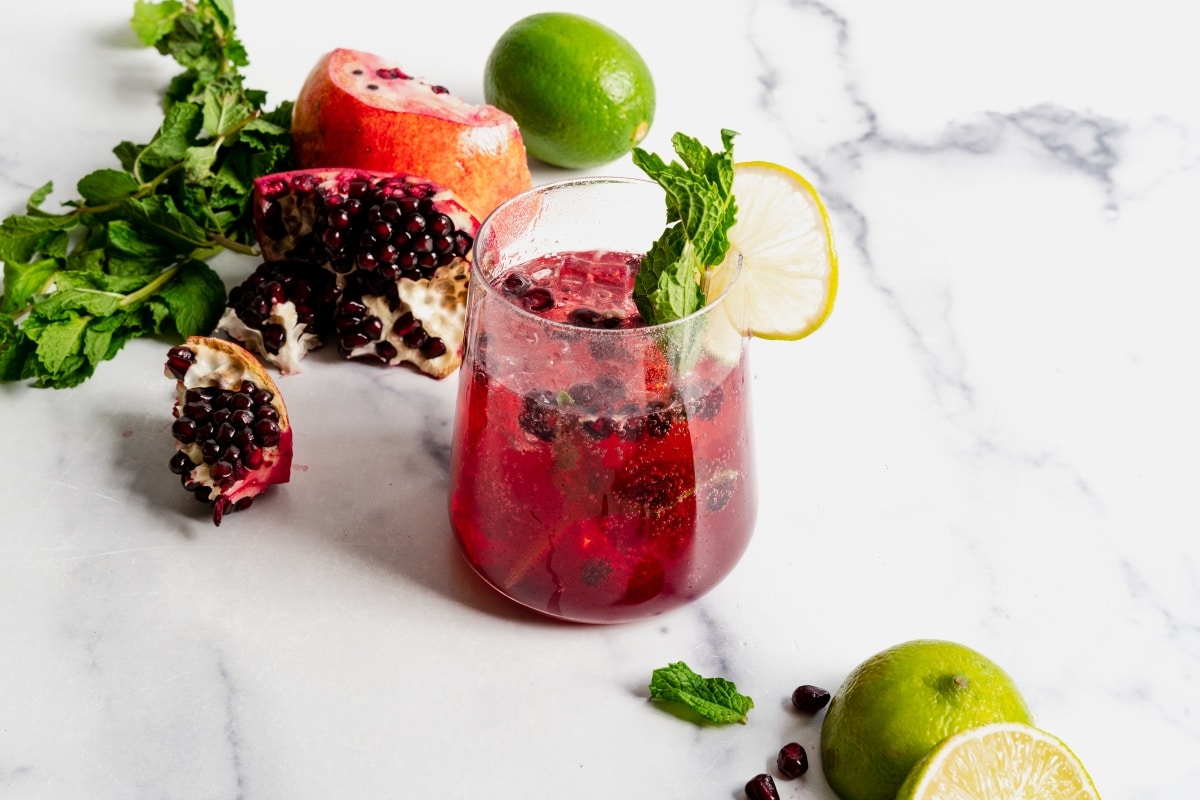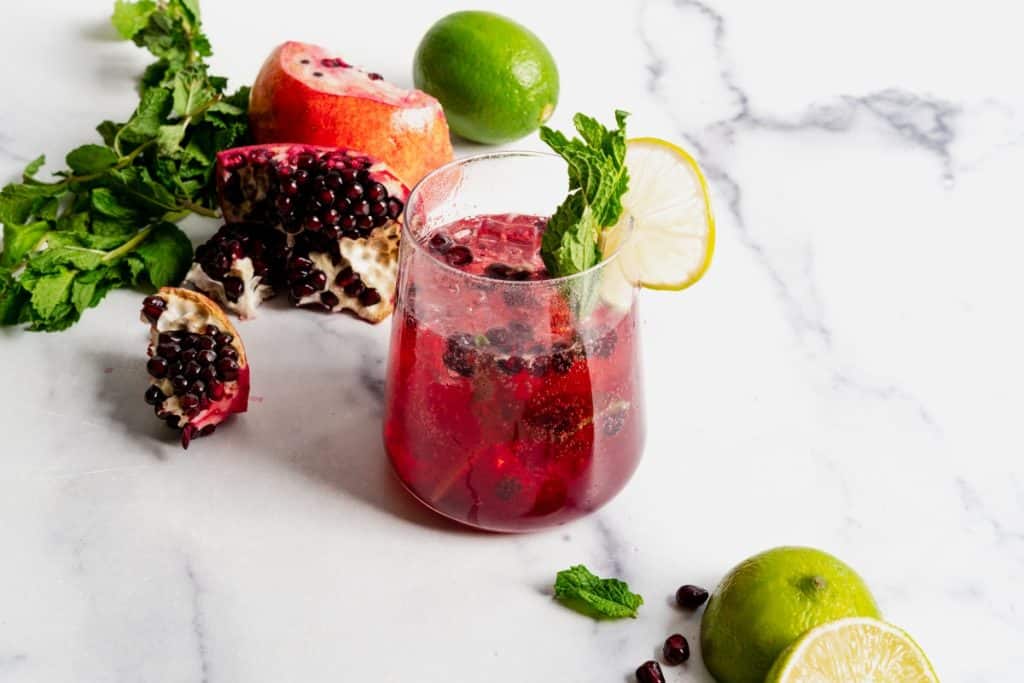 While I love the occasional glass of wine or cocktail, I want to head into this winter with a few good winter mocktails I can enjoy by the fire on a chilly night or with friends during a holiday party! Interestingly, we're seeing that more of our community is craving mocktail options as well—and this is happening outside of our community too. 
Recent data found that fewer than 4 in 10 Americans consider themselves regular drinkers. Plus, seasonal trends like Sober October or Dry January encourage a more balanced relationship with alcohol intake.
Just because we might want to consume less alcohol (or none at all) doesn't mean we can't get a taste of the season. As a bonus, we can also give our bodies good-for-you nutrients that help us feel great too! 
That's why I asked Micah Siva, our resident recipe developer and registered dietician, to create a few winter mocktails for us. If you're craving a zero-alcohol beverage this winter, you don't want to miss these! 

First: What Are the Benefits of Drinking Less Alcohol?
If you do consume alcohol (I see you, date night margarita) there are many clear benefits to moderating your overall intake for both physical and mental wellness. Habitually excessive alcohol consumption (4-5+ drinks in one sitting) could shorten a person's life by an average of 26 years. That's because too much alcohol in your bloodstream will take a gradual, but serious, toll on the liver, heart, colon, esophagus, and other organs. 
Over time, this can increase your risk of chronic illnesses such as cancer, hypertension, stroke, fibrosis, fatty liver disease, hepatitis, cardiovascular problems, and even mental health conditions or cognitive decline.
I personally find that my sleep is greatly impacted by alcohol (even just one drink!), so I often choose to skip the drinks altogether. Doing so helps me get a better night's sleep and also makes it easier to wake up the next day feeling refreshed and energized.
To avoid these potential health issues, or experience the benefits of not partaking (hello better sleep!), moderation is the key—and many people are starting to choose this route lately. In fact, 34 percent of Americans resolved to cut back on their alcohol intake in 2023 and more than 50 percent are interested in trying alcohol-free beer, wine, or spirits.
Cue one of my favorite zero-proof drinks: a good mocktail. This delicious alternative allows you to sip the flavorful, refreshing drinks you love without those long-term health effects.
What I love about the winter mocktails I'm sharing here is that they're festive for the holiday season and also support your health and well-being. With ingredients like pomegranate, apple cider, ginger, lemon, and honey, they may be just what your body needs to get you through the holiday and cold season!
Pomm Spritz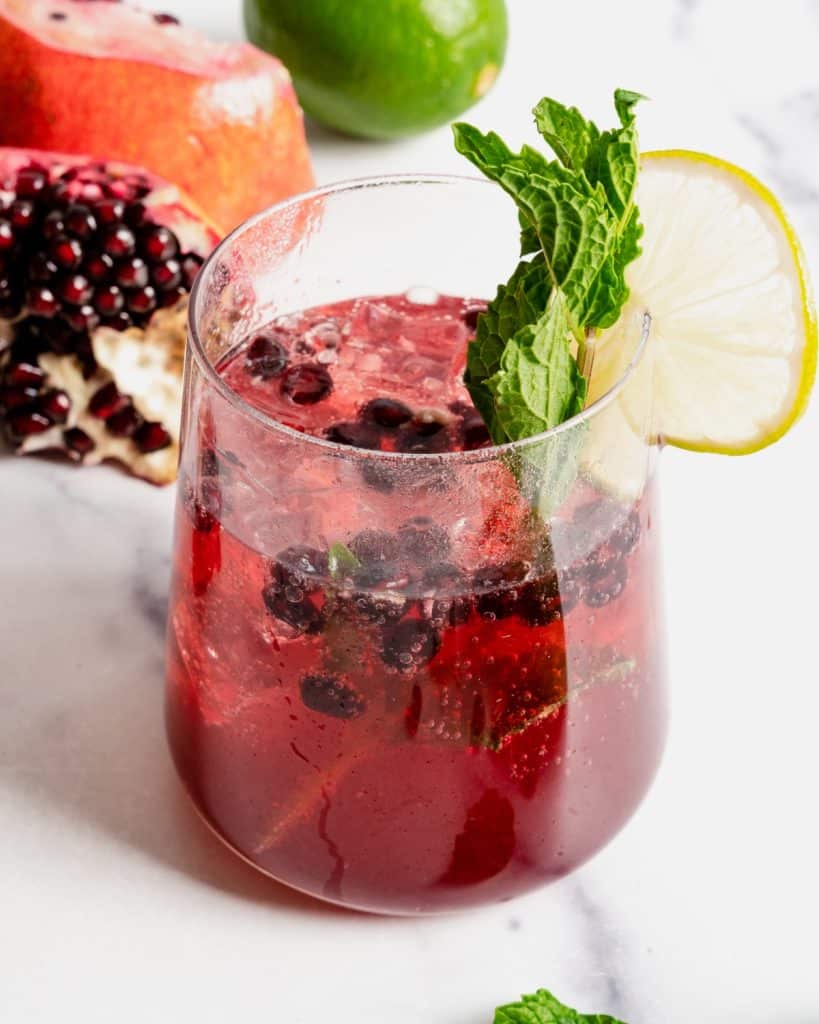 Pomegranate is a classic flavor this time of year. As this jewel-toned fruit reaches its peak of freshness in September through November, it becomes the perfect addition to meals— and of course, beverages. In addition to its ruby color and sweet-tart flavor, pomegranate also contains immune-boosting antioxidants to protect your cells from environmental toxins and repair DNA damage. In this recipe, the pomegranate juice melds with bitter tonic, lime, and mint, for a batch of truly satisfying winter mocktails. 
Ingredients:
2 oz. pomegranate juice
½ oz. lime juice
6 oz. tonic water
1 tbsp. pomegranate seeds
1 sprig mint leaves
Ice cubes (to taste)
Instructions:
Pour the lime juice and pomegranate juice in a glass with a small handful of ice cubes. Stir the mixture to thoroughly combine. Top with the tonic water, then garnish with a fresh sprig of mint and pomegranate seeds. Enjoy this beverage while it's cold.
Apple Tini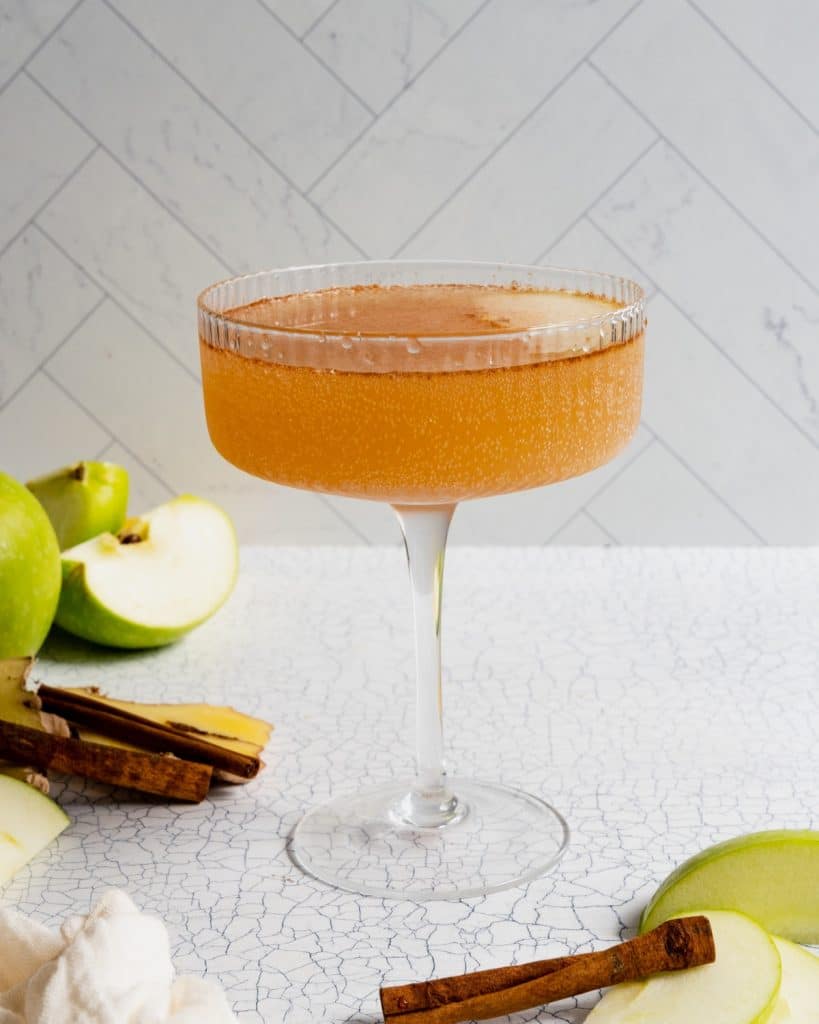 Few things are more warming in the winter than a hot mug of apple cider. Turn this classic into an effervescent, martini-style mocktail, infused with warming spices. As a bonus, apples are a nutritional powerhouse. Thanks to a robust combination of fiber and antioxidants, it can lower cholesterol, stabilize blood pressure, ease inflammation, and improve digestion. 
For the freshest (and nutrient-dense) version of this drink, try to use unpasteurized apple juice. I find this at my local health food store or farmer's market, but when it's not convenient, I just use whatever I have available!
Ingredients:
¼ cup apple cider
½ oz. ginger juice
2 oz. sparkling water
1 pinch cinnamon
Ice cubes (to taste)
Thin apple slices (to garnish)
Instructions:
Pour the apple cider, ginger juice, and cinnamon in an empty jar or cocktail shaker with a tight lid. Fill the remaining space with ice cubes and shake vigorously for 10–15 seconds. Transfer the mixture into a coupe or martini glass, then top with sparkling water, and garnish with a few thin apple slices. Enjoy this beverage while it's cold.
Rooibos Totty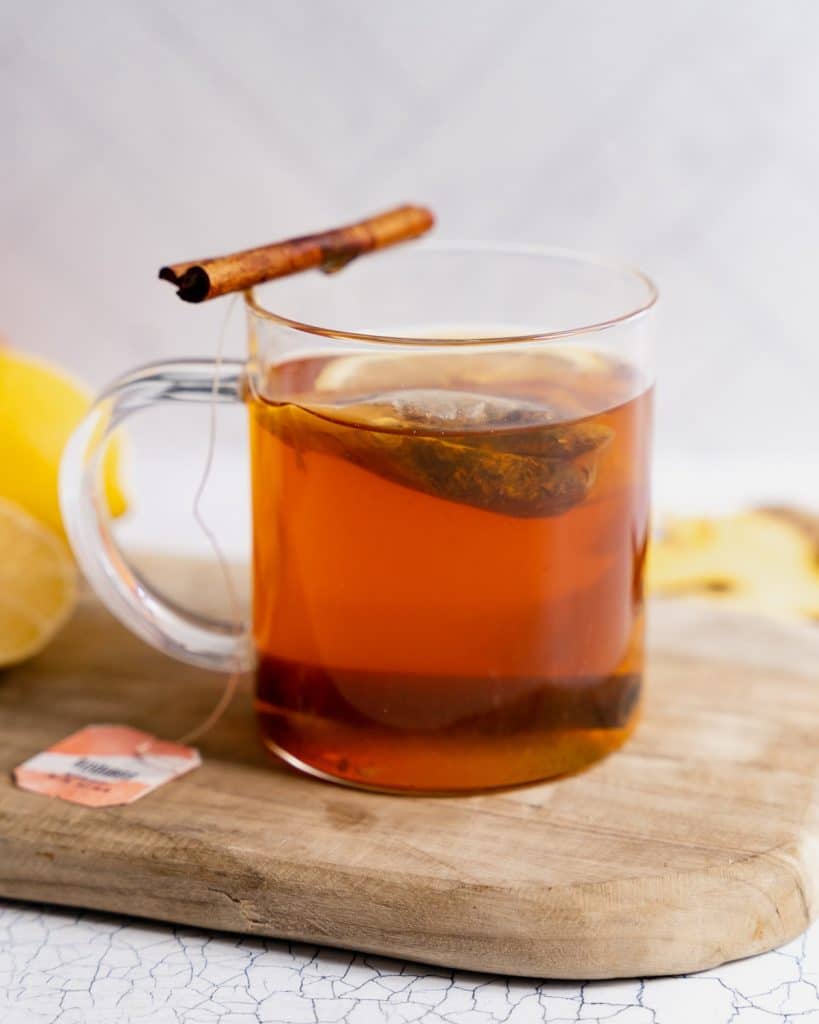 If you're like me, nothing sounds cozier than a cool winter evening on the couch with a cup of hot tea. This rooibos totty hits all those snug, thermal notes, and it's full of beneficial nutrients. Rooibos is a fermented African red tea varietal that, when brewed at a high temperature and steeped for several minutes, releases quercetin, aspalathin, and other bioactive antioxidants. 
Plus, it's naturally caffeine-free, which makes for a soothing sober nightcap.
Ingredients:
1 rooibos tea bag
1 tbsp. lemon juice
2 tbsp. honey
1 cinnamon stick
1 slice ginger
1 cup boiling water
Instructions:
Bring a cup of water to a rolling boil on the stovetop. Place the rooibos tea bag in your favorite mug, then pour in the lemon juice and honey. Top with the cinnamon stick and slice of fresh ginger, then cover all these ingredients with hot water. Allow to steep for 3 to 5 minutes, and remove the tea bag. Enjoy this beverage while it's steamy.
Winter Mocktails for a Balanced and Healthy Season
Whether you want to limit your alcohol intake or abstain altogether, these irresistible winter mocktails are the alternatives that your body is craving. Plus, they taste good too! Whip up a batch for yourself on a cool winter evening or to impress your guests at a holiday party!