With the launch of the summer edition of The Pilates Body Program I have been coaching the new members through the art of meal planning.
For some, meal planning is a brand new concept. But since the program is designed to create new lifestyle habits, meal planning is a skill that is encouraged and necessary for success.
If you're not used to planning exactly what you'll eat each week it can feel very overwhelming. It can also feel time-consuming.
But with a bit of practice meal planning can be a quick and helpful process that ends up saving time, stress and money. Who doesn't want that?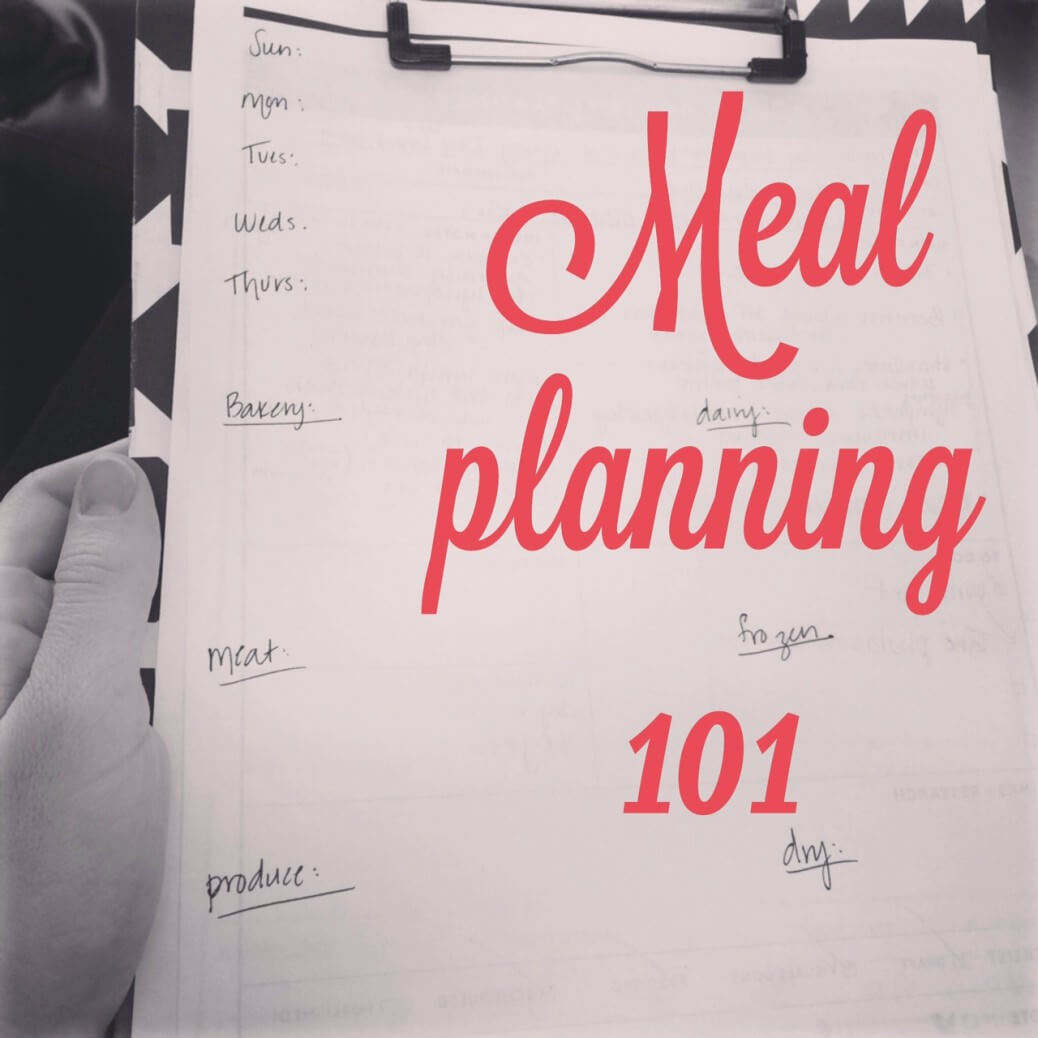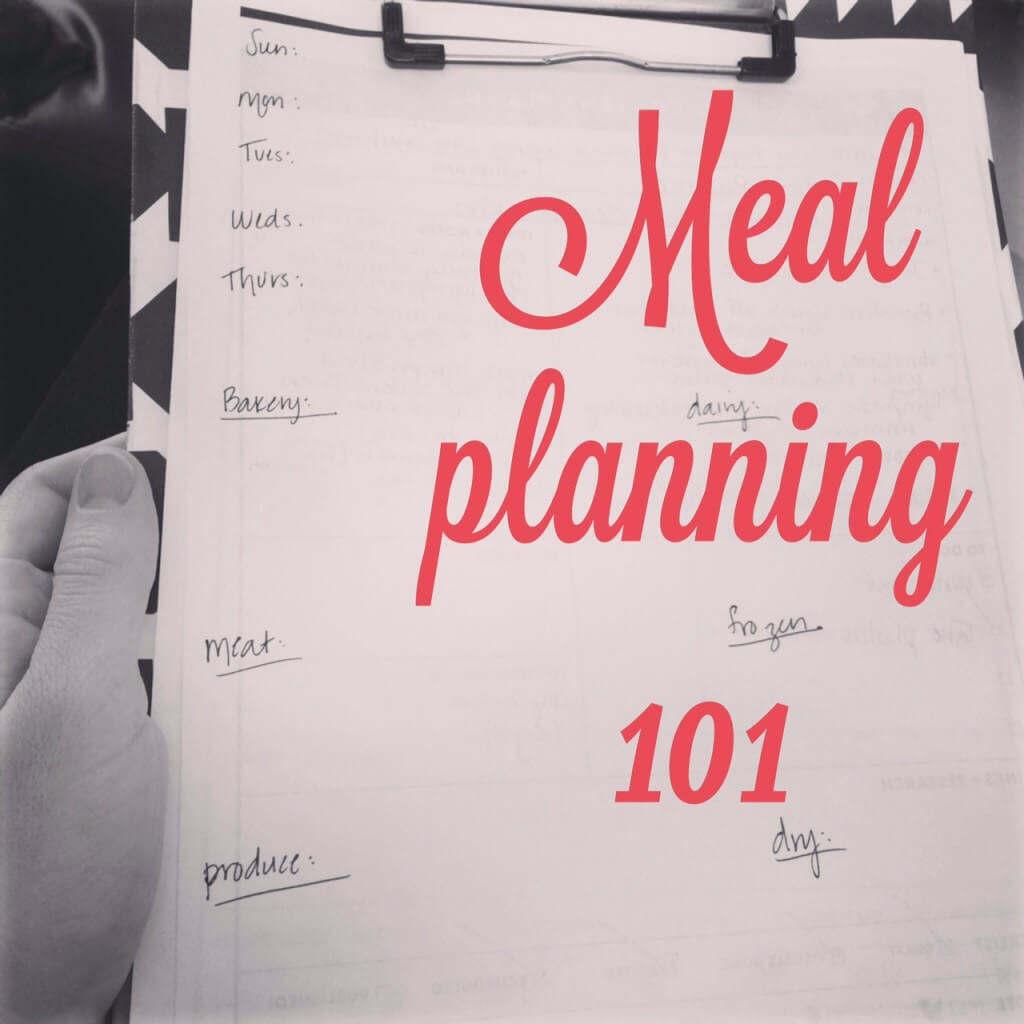 So today I thought I'd share the process I go through each Sunday to prep for a healthy week. Hopefully you will learn something that will make the whole idea less daunting and more practical:
Every Sunday I start with a list with the following items:
Sunday:
Monday:
Tuesday:
Wednesday:
Thursday:
Friday/Saturday: (usually I leave these blank)
Breakfasts:
Lunches:
Snacks:
Misc:
These days, every single dinner & lunch recipe comes from my PBP meal plan (hello, easy). But if I'm in the mood for something new I'll peruse Pinterest, Real Simple, Cooking Light, LB'S Good Spoon, Joyous Health or Whole Living for new recipe ideas.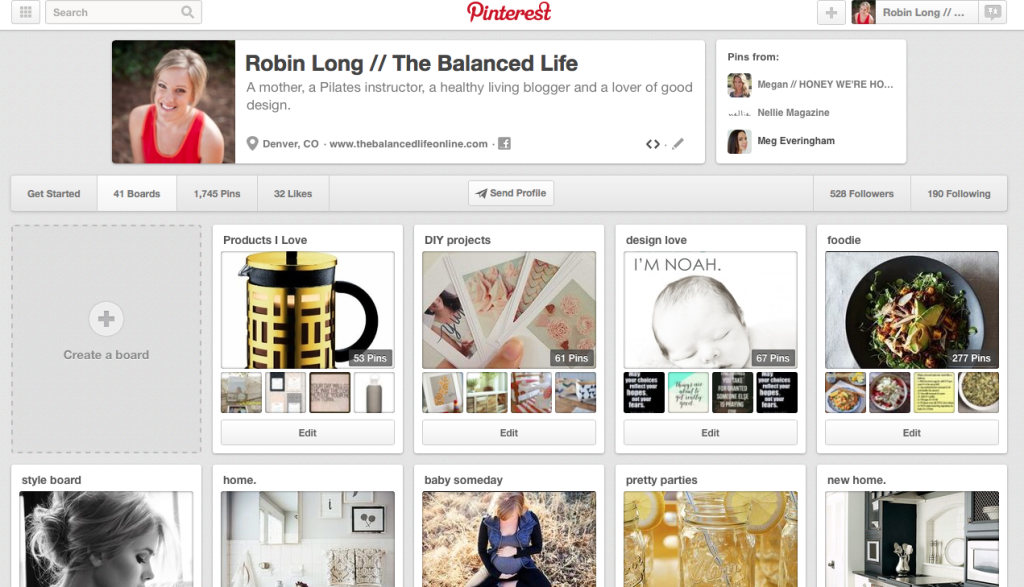 (are we following each other on Pinterest yet? click here)
I start by filling in the list above with dinners for each night (sometimes noting that we're going out or just going to play it by ear).
From there, I choose:
1-2 breakfasts options to have on hand (plus one for my husband)
1-2 lunch options (often these are leftovers from dinner)
2-3 snack options to have on hand.
Most of my lunch recipes make 2-4 servings so I can make it once and eat it throughout the week.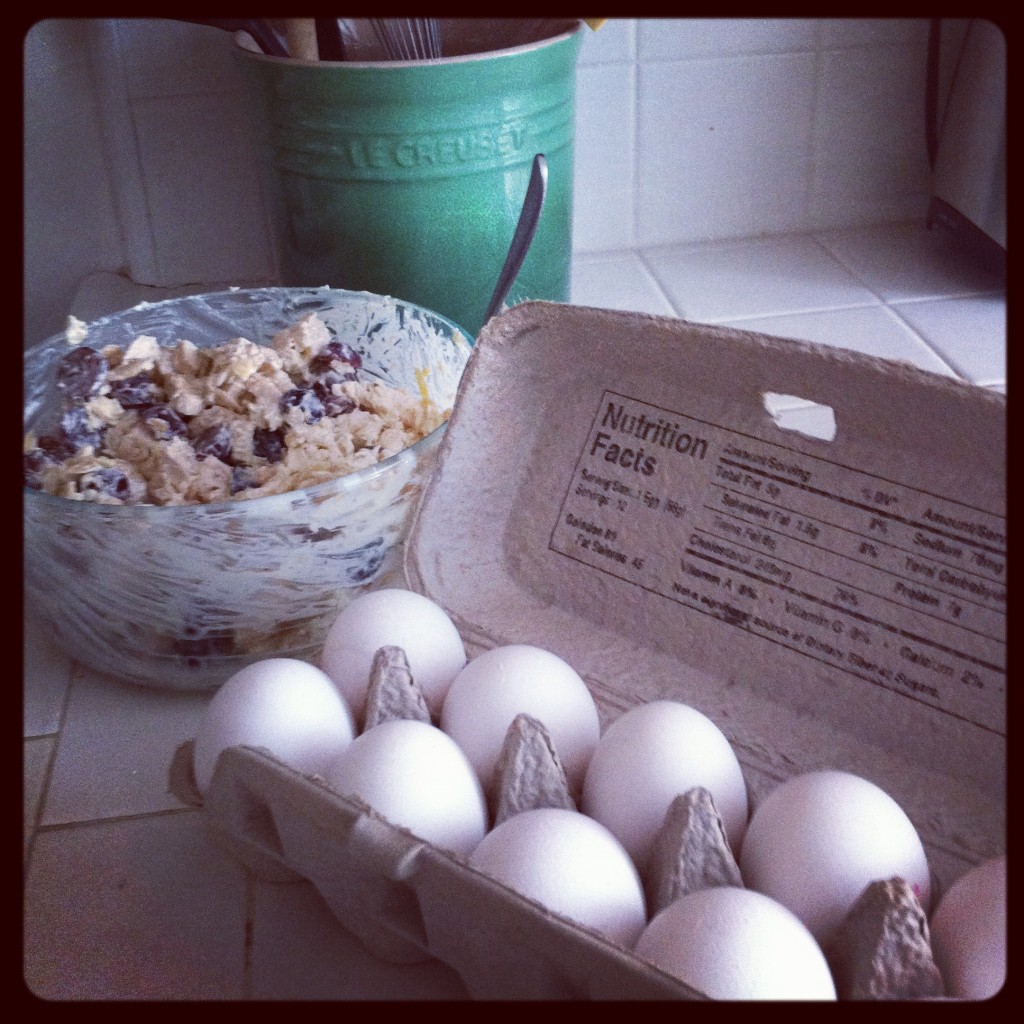 Once the meals and snacks are planned I go through it and write out all of the ingredients on a scratch piece of paper (usually while yelling to my husband in the kitchen "do we have this? do we need that? do you need milk?").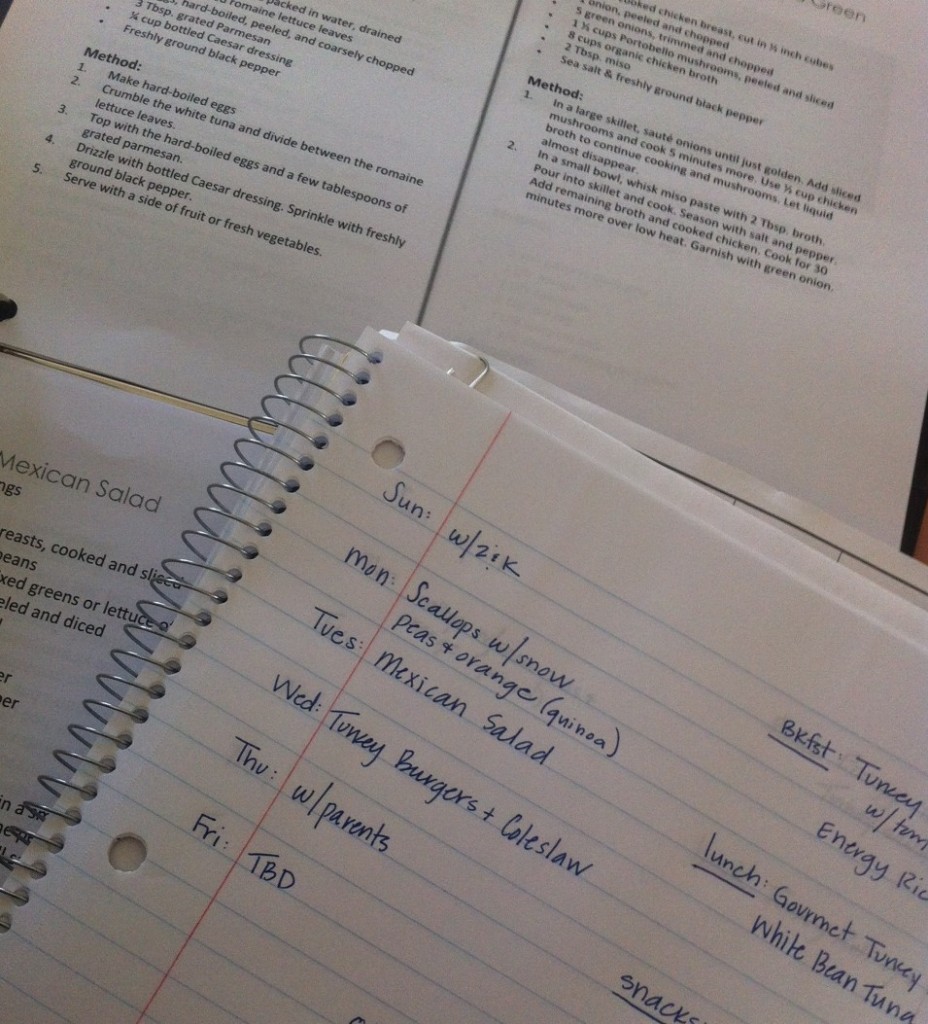 The next part of my system makes me laugh. When I was a little girl I remember watching my mom meal plan (in this exact same way) every Sunday. She'd finish up by writing out the list in the order of the grocery store aisles. I could not BELIEVE she had the grocery store memorized, and here I am, doing the exact same thing. Funny how that happens isn't it? She taught me well 🙂
I re-write the list in order, crossing things off as I go to make sure I don't forget anything. This part is optional but let me tell you, thanks to this last step I can be in and out of the store on a busy Sunday in under 20 minutes flat. Gotta love that.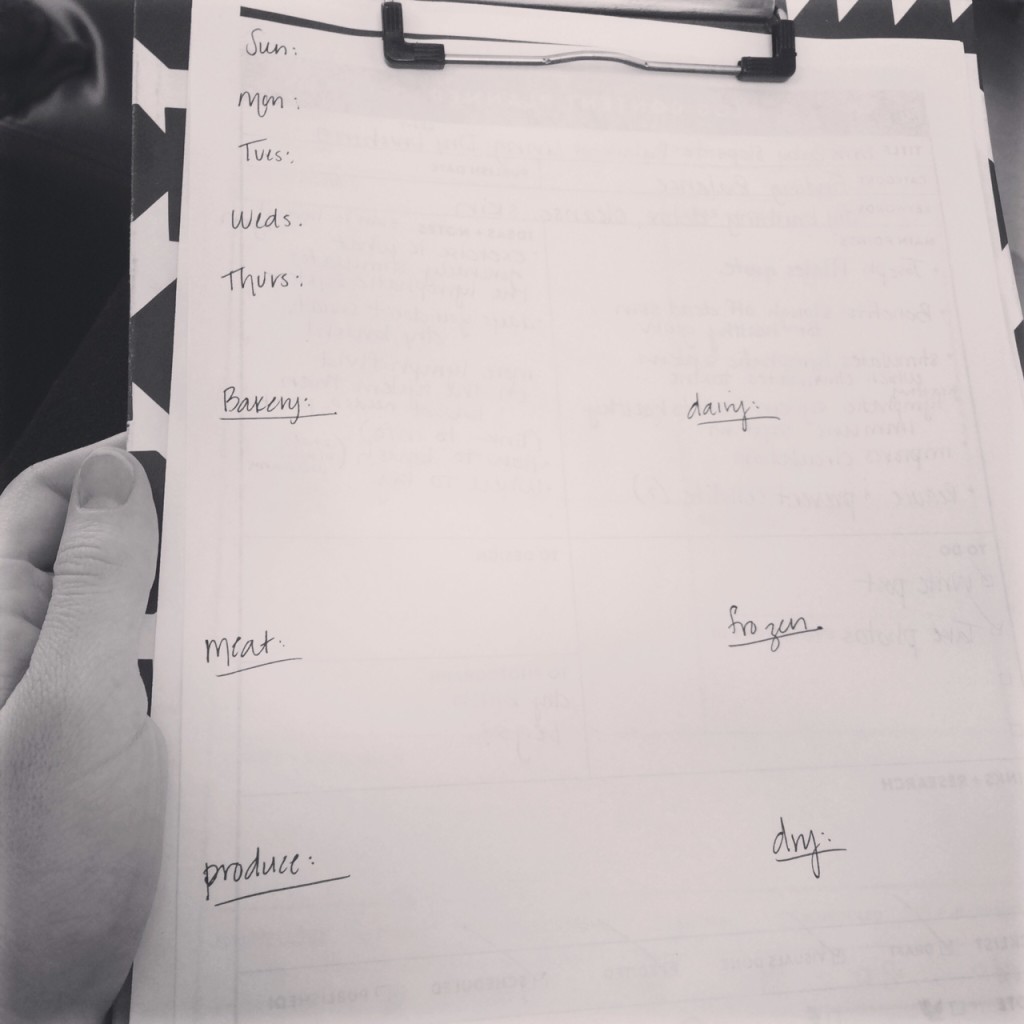 One other habit that I encourage among my PBP members is batch cooking. I do this weekly and it's become a habit that I can't live without.
I recommend taking an hour or so every weekend to meal prep. For example, this past weekend I made a big batch of turkey breakfast sausage (and froze half for weeks to come), made Almond Beauty Bars and hard-boiled eggs for snacks, washed & chopped veggies to eat with hummus and made a batch of chicken salad for lunches on-the-go. Batch cooking is the secret to healthy eating in the midst of a busy life.
It doesn't take long and it saves you time, money and stress during the week. All good things.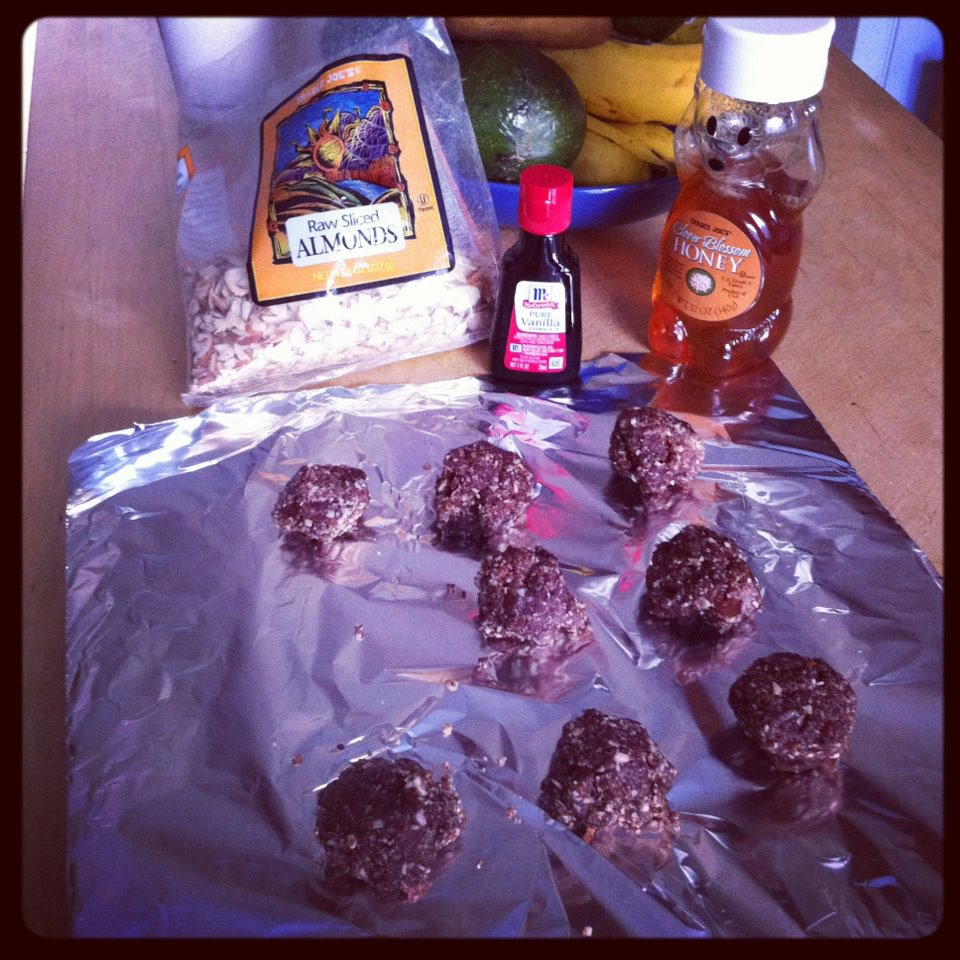 I'd love to hear from you too. What are your favorite tips and tricks for planning a healthy week?
xo,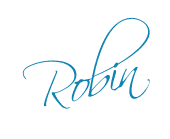 PS- you may also like my personal to-do list strategy and healthy kitchen staples.