Using your breath can be a powerful wellness tool whose benefits have been backed by scientific research. This free, easily accessible tool can be used by anyone at any time to help regulate emotion and bring a sense of well-being to your life. Breath is at the core of Pilates and can be used for wellness both on the mat and off.
My guest today is breathwork coach, Kiesha Yokers. Kiesha is passionate about breathwork and education and is striving to bring the gift of breathwork as a path to wellness to as many people as she can.
Check out this episode to hear all the ways you can benefit from using breathwork as a wellness tool. Make sure to listen until the end to hear a few breathing techniques that you (and your kids) can use right now to help you relax and enter rest and digest mode.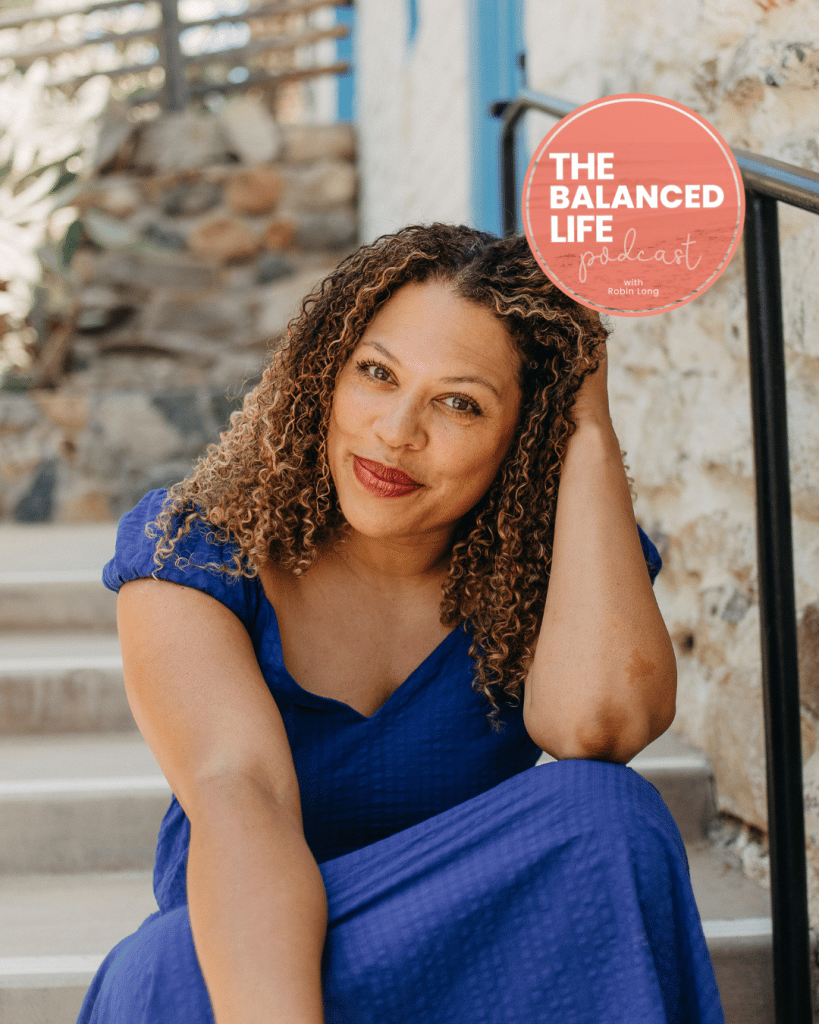 You will want to hear this episode if you are interested in…
Who Kiesha Yokers is [3:32]
What led Kiesha to explore breathwork [5:40]
Connecting with the many types of breathwork [14:05]
Where you hold your emotions [18:36]
Tips to empower kids to use their breath [21:52]
How breathing regulates your nervous system [27:40]
Simple ways to get started with breathwork [32:49]
Kiesha explored breathwork as a way to heal from her own trauma
In episode 78, Robin shared her personal journey with breathwork, but in this episode she wanted to dive in and explore this vital topic in more depth with Kiesha Yokers – an entrepreneur, mom, and Navy wife who has a passion for nontoxic living. She has spent the past several years researching wellness and the effect of toxins on the body while developing her blog.
Even though Kiesha was a healthy living blogger, she didn't know anything about breathwork. After the traumatic events of 2020 and especially the vision of George Floyd struggling to breathe his last breath, Kiesha began exploring the topic of breath as a way to heal from trauma.
This led her to take a few breathwork classes. Immediately, she understood the value of this simple tool. Since she is a natural teacher, she knew right away that she wanted to teach breathwork to others. Breathwork has helped her address her trauma, get rid of brain fog, and reduce stress.
The advantages of the many types of breathing
We don't often think about our breath unless something is wrong, but breathing is the first and last action of our lives. There are many ways that people can work on using their breath to reduce stress, reduce blood pressure, improve lung function, increase cognitive performance, and even improve sleep quality.
There are breathwork exercises that can stimulate you and get you ready to compete, and others that can calm you down from a heightened state. Circular breathing, the Wim Hof method, yogic breathing, and conscious connected breathing all have their own techniques and advantages. Listen in to hear Kiesha explain how different types of breathing could help you improve separate areas of your health.
Tips to empower kids to use their breath
As adults, we often have a hard time explaining and processing our own emotions, so imagine what it is like for kids!
Parents can model breathwork to help kids learn to work through their emotions. Talking through your emotions and describing the tools you are using to calm yourself can show your kids how breathing exercises help you. By watching you model these techniques, kids can start to take this tool into their own survival toolbox.
It is also a great idea to explicitly teach ways to use their breath to calm themselves when they are worked up, however, it is important to teach kids when they are in a calm state. No one can learn anything when they are in the midst of a meltdown. When you teach them something while they are calm they can use it as a tool to help them come back from the brink.
Listen in to learn a few breathing techniques that you can use right now to destress and return your body to a parasympathetic state.
Resources & People Mentioned
Follow Lindywell
Join Lindywell
Subscribe to The Balanced Life