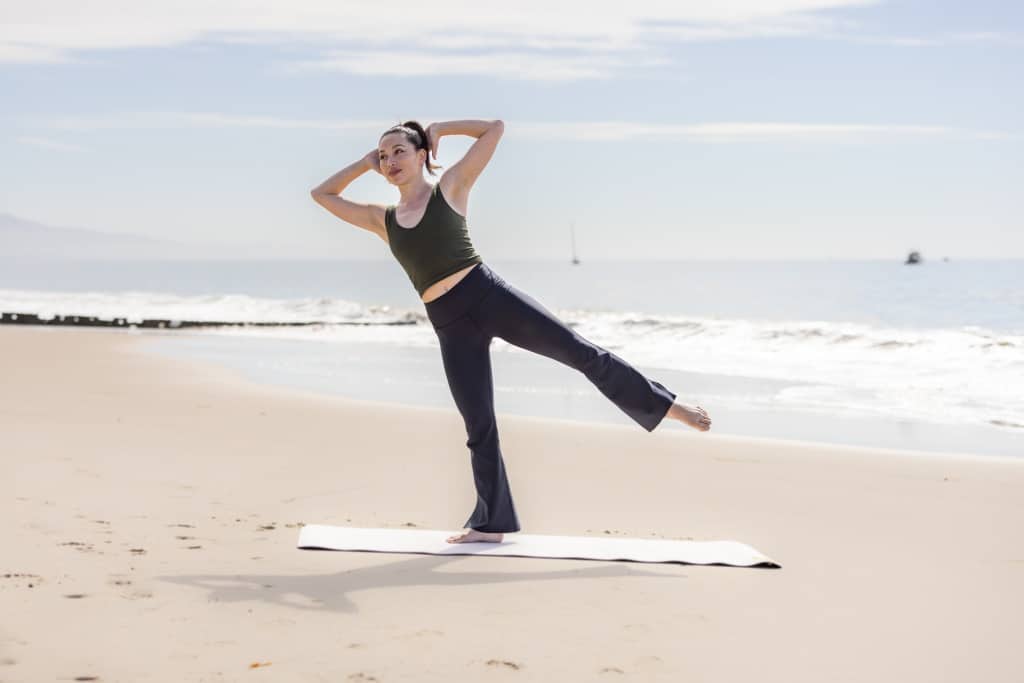 This is not your average Pilates before and after. You're not going to find any photos or talk of body weight. For us at Lindywell, the true "before and after" is often felt even more than seen—and this is how we find our members naturally reframe their transformation after joining. 
When workouts meet you where you're at, make movement easier to access, and support your mental health, the before and after goes much deeper than what can be seen in a photo. So come along with me as I share some beautiful transformations from our Lindywell members. You may even find you want to reframe the way you look at your health transformation too—or become a member yourself!

Consistency—FINALLY
Before: I can never stick with my workouts.
After: It's easy to show up every day, no matter how I'm feeling.
Consistency, specifically the need for it, was my catalyst for starting Lindywell. I struggled for most of my adult life to stick with my workouts. (You might be familiar with this!) The start-and-stop habit as my motivation ebbed and flowed was frustrating—I wanted to be consistent with workouts for my mind and body, but I just couldn't grind through those hard and long sessions over and over.
And understandably so, as I can see now that I was trying to force my body to do something it didn't want to do. Some days I was craving light and easy, other days I wanted to push a little harder. This is natural (especially for those of us women with a cycle) and more supportive of the mind and body. 
When I discovered Pilates, began to listen to my body and reframed my mindset around exercise to choose grace over guilt, I experienced an incredible transformation.
I created Lindywell to help more people experience the same thing. The Lindywell approach includes a wide range of workout lengths (10 to 45 minutes) but focuses specifically on building the habit of short Pilates workouts naturally into your day. Pairing this with a grace-over-guilt mindset allows you to break free of old patterns that have been keeping you stuck and finally see results in a fresh, new way. Our members experience this on a daily basis!
Here's Sarah's Pilates before and after:
"I love Lindywell! I've been a member for almost three years and I've never been this consistent with workouts! During this time, I've been pregnant and postpartum and continue to complete these workouts 3 to 4 times a week! I have 6 kids and often times they will join me in my workouts! It's the best monthly investment I have!"
Workouts That Are Fun and Effective? Yes!
Before: My workouts need to be painful to see results.
After: Workouts get to be enjoyable and effective.
You've heard the phrase "no pain, no gain" many times in your life, right? It's a sentiment that we take with us in relationships, work-life, and especially workouts. You may have thought (I know I did!): If it doesn't hurt, or I'm not miserable, then I'm not going to make any progress.
This simply is not true. Workouts can be enjoyable and effective! And even better, when they are fun, they're easier to stick with. Will you work out every single day for the rest of your life with Lindywell? Maybe not. But you will be more likely to come back to your mat because you know you can find a workout that challenges you, while also being enjoyable.
Here's Mary's Pilates before and after:
"I have been doing Pilates workouts with Lindywell for 6 years, and I absolutely love it. I was never this consistent with exercise before I discovered this program. Lindywell makes exercise fun and convenient. Robin's positive grace-filled messaging makes me feel motivated rather than guilty. I feel so great, and I'm in the best shape of my life."
Listen to Your Body (and Still Build Strength)
Before: I need to push my body to work out, even when I don't want to.
After: I can meet my body where it is (and still get a great workout).
For a long time, I believed I needed to put in 60 minutes at the gym every day to build strength and "take care" of my body. When I decided that there might be another way, everything changed. This is a key area of focus for us at Lindywell. We want you to meet your body where it's at. This might mean you do a 10-minute stretching session one day and a 30-minute strength-based session the next (all of which you can find in the Lindywell app!). 
This is not only better for your body, reducing injuries and pain, but it's also a key aspect of staying consistent. When you enjoy the movement, instead of forcing your body, you're more likely to stick with it! Plus, you can still build strength and support your mental health—truly a win-win.
Here's Karen's Pilates before and after:
"Lindywell stresses 'listen to your body' and they're very good at providing modifications to moves. At 58 I feel better about my body than I did before I started Pilates 3 years ago.
It is the only program I have done consistently. Well worth the money paid."
The True Pilates Before and After
Do I want you to feel strong and confident in your body? Absolutely! But I also want you to show up for yourself regularly, take care of your mind and body, and love every workout that you do. That's why, at Lindywell, we focus on grace over guilt and listening to your body. As a result, all of our members tell us they feel better than ever before, mentally and physically—I encourage you to check out the reviews for yourself!
If you're ready to re-think movement and reframe your health transformation, start a 14-day free trial of Lindywell and get instant access to the entire app.